Animated documentary on the Holocaust, initially a controversial format, has become an established category. Over the past twenty to thirty years, many short, mid- and feature length films have been produced, including Miloš Zvěřina's trilogy,[1] Orly Yadin and Sylvie Bringas' Silence (1998), The Last Flight of Petr Ginz (2012) by Sandy Dickson and Churchill Roberts, and others. The production of animated films on this subject surged as a result of the form's broad appeal across a range of ages. Animated documentaries narrating the stories of children who lived through the Holocaust have become an accessible form, allowing today's children and younger generations to understand this traumatic moment in history. Film theorists such as Paul Wells, Annabelle Honess Roe and Victoria Grace Walden have reflected on documentary animation as a mode of representation which not only compensates for the shortcomings of live-action footage where the footage does not exist or where it was impossible to film the subject (Honess Roe 2013, p. 106), they have also argued that animation's non-indexical imagery enables filmmakers to capture subjective and affective qualities of experience more persuasively than live-action film (Wells 1998, pp. 27 and 122). Animated documentary has therefore been increasingly engaged in approaching traumatic experience(s) and exploring issues of memory, where the affective and the subjective dominates over the objective and the factual (Walden 2014, p. 4).
In this paper I discuss and compare two films that originated over fifty years apart from one another, Butterflies Do Not Live Here (Miro Bernat, 1958) and Helga L-520 (Miloš Zvěřina, 2011). My aim is to outline the major historical shift that occurred over this period both in the conceptualization of Holocaust memory in Czech(oslovak) animation and in the use of animation techniques in this context. Although these two films were each made in a completely different historical era and different film-production mode, the first towards the end of hardline Stalinist phase of the communist regime in Czechoslovakia, in a state-socialist film production, the latter in a free-market Czech Republic twenty years after the fall of the Iron Curtain, they are strongly linked not only through the common subject matter and the identical archival material they approach, but also through the engagement of the artist and survivor Helga Hošková-Weissová (*1929; also known as Helga Weiss).
Butterflies Do Not Live Here was produced in 1958 by the Czechoslovak Krátký film (Short Film), a major state-run film production company that specialized in documentary, educational, newsreel and animated films. I would like to position this experimental documentary as a key precursor to the contemporary surge of animated documentary on the Holocaust, as it represents, at least in the Czechoslovak context, the first gesture towards the possibility of animating archival material on Nazi crimes, specifically the collection of children's drawings from Theresienstadt.[2] This initial minimalist gesture was not developed until over three decades later. In 1992, Miloš Zvěřina, for the first time, animated parts and fragments of the children's drawings from Theresienstadt using the combination of classical hand-drawn and cutout animation in his film debut Incarcerated Dreams. Since then, the children's drawings were employed in many of the more recent animated documentaries, including Helga L-520.
The Art of Helga Hošková-Weissová and The Dicker-Brandeis Collection – Animated
Butterflies Do Not Live Here and Helga L-520, albeit using widely contrasting techniques, both animate the drawings and paintings made between 1941 and 1945 by Jewish children imprisoned in Theresienstadt. They work with two archival collections – the children's artworks saved by Friedl Dicker-Brandeis (1898–1944) and the drawings by Helga Hošková-Weissová.
Helga Hošková-Weissová was one of the very few children who returned from the Theresienstadt camp, out of estimated total of 15, 000. After the war she studied at the Academy of Fine Arts in Prague and became a painter. Her involvement in the production of animated documentary films on the Holocaust has had a long history, beginning with Butterflies Do Not Live Here. The film was inspired by her diary that she wrote as a child prisoner in Theresienstadt[3] and it included some of her drawings and fragments of her literary testimony, along with other children's drawings from Dicker-Brandeis' collection. Several of her drawings appear also in Zvěřina's animated debut Incarcerated Dreams. The more recent animation Helga L-520, part two of the loose trilogy, was made with Hošková-Weissová's active artistic collaboration. In 2019, Hošková-Weissová designed the shadow puppet characters for Zvěřina's latest live-action animated film Theresienstadt Shadows premiered on Czech TV in 2020 (Fig. 1).[4]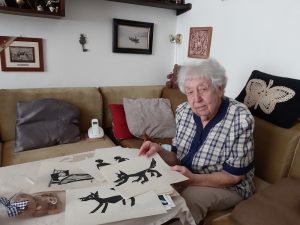 Figure 1. Helga Hošková-Weissová showing her designs for the shadow puppet animation in Theresienstadt Shadows. Ó 2020 by Jana Rogoff
 Apart from being inspired by Hošková-Weissová's diary, the film Butterflies Do Not Live Here came into being as a cinematic response to the postwar discovery of Dicker-Brandeis' collection of children's drawings, as I analyze in more detail in my article for the Apparatus Journal. This article also examines the close links between the collection's first curating and exhibition practices in the mid 1950s and the scriptwriting, production and distribution of the film (Rogoff 2019).
At present, the Dicker-Brandeis collection is a world-renowned document on the Holocaust, considered an invaluable and rare visual record of everyday life in the ghetto and of the children's emotional and psychological states. Frederika Dicker-Brandeis, a fellow-prisoner and an art teacher of the children in Theresienstadt, was a former Bauhaus student and one of the most outstanding avant-garde artists from the interwar period. She organized art classes for the children which were part of the clandestine educational program formed in the extreme conditions of the ghetto. In her classes she employed the experimental methods of the Bauhaus to develop the children's creativity but at the same time strived to allow them freedom of expression as a way of coping with their dire experiences (Pařík 2009, p. 9). Before her transport to Auschwitz, Dicker-Brandeis hid two suitcases with 4387 children's drawings that she had collected.
By comparison, the artworks by Helga Hošková-Weissová, which she created as a child prisoner in Theresienstadt, have their own separate history. As Hošková-Weissová pointed out in a recent conversation,[5] in contrast to what Dicker-Brandeis did with the children in her art classes, mostly focusing on the psychotherapeutic effect of drawing memories of home, fairy tales and nature to take their minds off the reality, Hošková-Weissová followed the contrary advice of her father that he had given her upon their arrival to Theresienstadt: "Draw what you see." She therefore created a separate cycle of over 100 drawings and paintings that realistically depicted life in the ghetto. This form of documenting life in the ghetto was a high-risk endeavor. In 1944, several well-known and respected graphic artists imprisoned in Theresienstadt were arrested, interrogated, tortured and sent to Auschwitz as a punishment for producing drawings that documented different aspects of daily life in the ghetto, such as the search for food and the transports.[6] As Hošková-Weissová recalls, luckily for her, nobody assumed that drawings of such nature could also be created by children.
Butterflies Do Not Live Here features both drawings by Helga Hošková-Weissová and drawings from Dicker-Brandeis' collection, whereas Helga L-520 focuses on Hošková-Weissová's personal story and her own visual testimony.
From minimal motion animation to digital compositing
The 14-minute documentary Butterflies Do Not Live Here is an animated montage of the children's authentic drawings and post-war footage of Theresienstadt. The soundtrack consists of music composed by Theresienstadt survivor Karel Reiner (1910-1979) and of voiceover in which the narrator's commentary alternates with readings of excerpts from the children's poems and diary notes. The film director Bernat employed the best Czechoslovak actors of the time. Václav Voska was the narrator. Jiřina Jirásková, Olga Sluníčková, Luděk Munzar as well as child-actors read the literary excerpts.
The film combines live action sequences with formal elements of animation such as representation of reality through drawings, a limited construction of movement and tight relationship between music and image. In my analysis of the film's conceptualization of Holocaust memory as well as its minimal animation techniques, I have found the concept of reconstruction useful as it corresponds best to the film's structure and its central intention.
In the opening section, the drawings depict domestic scenes: children playing in the backyard of a house, dancing on a meadow and flying kites. (Fig. 2) Here the narrator reflects on drawing and painting as a means of reminiscence that allowed the children to recall their homes and favorite toys left behind. This commentary is the first indication that positions the film as an attempt to reconstruct and relive the children's psychological and emotional condition. At the same time, it introduces the multiple levels of work with memory. The film, itself an act of remembrance, thematizes the memories of the children that they brought with them from their homes to Theresienstadt.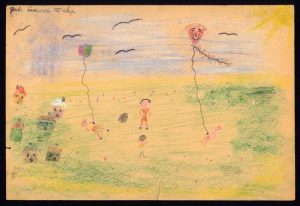 Figure 2. A drawing by Gabriela Freiová (*1933). Courtesy of the Jewish Museum in Prague
In a series of fade-ins (Fig. 3), we see a drawing of a female figure, a family house and a garden with a tree that emerge gradually and simulate the process of drawing as well as the process of reminiscing. Apart from these fade-ins, the camera operator Pavel Hrdlička[7] brought the drawings in motion by means of vertical and horizontal panning, close ups, changes of focus, and zooming in and out of this delicate imagery. The camera movement on the still images is occasionally replaced by a mechanical movement of the drawings in front of the still camera, such as a drawing of a boat on a lake that is gently swung to simulate floating, a child-like gesture that contributes to the overall concept of reconstructing, reviving and reliving the children's world in Theresienstadt.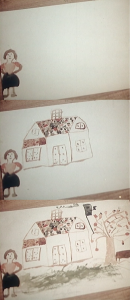 Figure 3. Fade-in animation of a drawing in Butterflies Do Not Live Here. Courtesy of Národní filmový archiv, Prague
The initial set of drawings depicting memories of home is followed by a series of drawings representing the space of the ghetto: the massive walls of the 18th century Theresienstadt fortress (Fig. 4), the inner architecture of the town, the grim and crowded interiors and their inhabitants. These drawings are juxtaposed with the post-war live documentary footage of the fortress, by then overgrown with tall grass and bushes. The live footage incorporates views of landscape and nature from behind the walls, a subject, which recurred in the children's poems and literary texts. In the film, these views are used as a visualization of the children's longing for freedom. The narrator explains, "That is where they imagined their home." Here, the gaze of the camera through the barbed wire is re-enacting the children's perspective.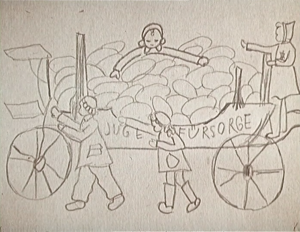 Figure 4. Bread delivered on funeral carts. An iconic drawing by Helga Hošková-Weissová (*1929). Courtesy of Národní filmový archiv, Prague
The shifts back and forth between the animated drawings and live footage highlight not only the material differences between these two modes of representation, but also the contrast between the subjective expression of a lived experience and an objective camera—recording its topography in an act of remembrance.
The selection of drawings proceeds from the initial idyllic and colourful domestic scenes through dim images of the ghetto towards increasingly drastic subjects: black and white pencil-drawn carriages pulled by people instead of horses, bread delivered in funeral carts (an iconic drawing by Helga Hošková-Weissová, Fig. 5), funerals and executions. The fast succession of images is rhythmically edited to Karel Reiner's music.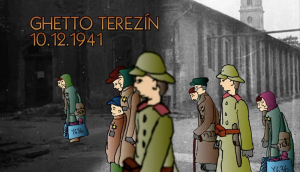 Figure 5. Compositing of animated characters on a photographic background. A still from Helga L-520. Courtesy of Miloš Zvěřina and Via Lucis Studio
There are five key agents that animate the drawings: the camera movement, dramatic changes of light, the voiceover commentary, Reiner's music and fast rhythmical editing. The combined dynamic of these five elements compensates for the inherently static visual material and creates a specific effect where both the sense of movement and stasis are at once present on the screen. The low-tech illusion of movement is not based on frame-by-frame animation but created by means of these external aspects. In fact, it is perhaps precisely these gentle attempts to bring the drawings to life and their somewhat stiff results that underscore the impossibility of this overarching intention.
Butterflies Do Not Live Here elicited enormous acclaim: in 1959, it won the Golden Palm at Cannes and over the following year it collected awards at dozens of film festivals including Karlovy Vary, Edinburgh, Venice, Mexico, Oberhausen, Sydney, Vancouver and others (Jablonská 1979, p. 23). Part of the film's powerful resonance both in Czechoslovakia and abroad was its significant contribution to public knowledge about the Holocaust, about the extent of atrocities.
The careful and minimal animation that was done on the children's drawings manifests the initial hesitation as to how and whether at all to approach these archival documents through animation at the end of the 1950s, a time still not too distant from the tragic historical events.[8]
By contrast, more recent films that animate the Theresienstadt drawings such as Helga L-520 (2011) and the more widely known The Last Flight of Petr Ginz (2012) use much more integrative and interactive methods. Helga L-520, a 19-minute live-action animation, was produced through the cooperation of two independent Czech film studios, Via Lucis and Miracle Film, both founded in the early 1990s during the chaotic process of the industry's restructuring and privatization by professionals previously working in the state-run film studios. As with Butterflies, the film employs the concept of reconstruction and mixes live-action with animation, even if with a very different perspective on the subject as well as approach to the archival visual material. Helga L-520 focuses on Hošková-Weissová's personal experience and, through the animation of her drawings interwoven with live-action scenes, it tells her wartime story, framed by glimpses of her contemporary life. The film opens with a live-action sequence where the 80-year-old Helga Hošková-Weissová plays herself – returning to Theresienstadt 70 years after her deportation in 1941. As she enters the vaulted red-brick gate of the fortress, a child-actor, Julie Ondráčková, replaces her (via a match cut) and retraces her life in the ghetto.
In the animated sequences, Hošková-Weissová's original drawings are taken apart by means of computer-generated effects; their characters migrate from one drawing to another, the drawings become backgrounds for new plots, the scenes depicted in them come alive and continue to develop. Compositing is used to simulate depth and to display layers of the images at different levels of depth (Fig. 6-8).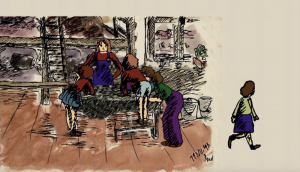 Figure 6. A character leaving the frame of the drawing. A still from Helga L-520. Courtesy of Miloš Zvěřina and Via Lucis Studio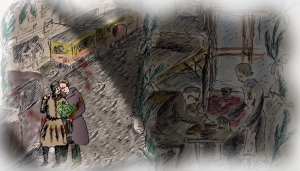 Figure 7. An original drawing by Helga Hošková-Weissová used as a background for new action.  A still from Helga L-520. Courtesy of Miloš Zvěřina and Via Lucis Studio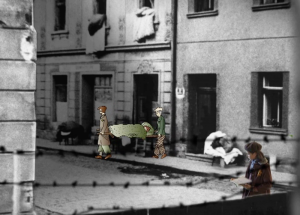 Figure 8. Animated and live actors sharing the same diegetic space, here created by a photography from wartime Theresienstadt. A still from Helga L-520. Courtesy of Miloš Zvěřina and Via Lucis Studio
Zvěřina emphasizes the permeability between the animated and the photographic media and their response to each other. The pre-war photos of Helga Hošková-Weissová and her parents are altered by means of simple animation, a red marker-line heart is drawn around the black-and-white parents' portrait, an animated snow is falling on the people summoned for the transport on a documentary photograph. The figures from Hošková-Weissová's drawings move over the still photographic background of wartime Theresienstadt. And vice versa, the child-actress representing little Helga enters the space of the drawings which she inhabits simultaneously with the animated characters (Fig. 9). She wanders through both the real space of the former Ghetto and the spaces of the drawings, transitioning smoothly from one to the other, and becomes the principal element connecting the animated and the non-animated world. Zvěřina's intensely intermedial form in Helga L-520 which freely disrupts the integrity of the original archival materials thematizes not only the mutating nature of memory and its dependence on media but also the continual transformations in forms of cinematic representations of the Holocaust.
 Conclusion
 The main link between The Butterflies Do Not Live Here and the recent films I mentioned is the underlying intention to "animate" the children's drawings in the original sense of the verb, "to bring them to life." The concept of reconstruction is more prominent in The Butterflies where not only the children's drawings are brought in motion, but their gaze is re-enacted by the camera, their poems and diary notes are staged, their songs are played, while the narrator muses about what their beliefs, desires and fears were. From the perspective of history of animation, it is a question whether to position this early film as a precursor, which stands outside of animated documentary as defined by Annabelle Honess Roe (for example), who narrowed the category down to 'imagery recorded frame-by-frame' (Honess Roe 2013, p. 4) or whether to think of them within the broader framework of non-phased or conceptual animation.
The methods of animation in the more recent examples such as Helga L-520 indicate that animated documentary on the Holocaust has become an established form open to aesthetic and technological experimentation. Their role is no longer to expose untold historical narratives as was the case in the wave of testimonies that emerged at the end of the 1950s, including Bernat's Butterflies. Instead of approaching the historical event as a collective fate, which was the typical postwar universalist approach, they tend to orient on individual stories and testimonies with an increasing urgency in the efforts to capture and retell the memories of the rapidly diminishing number of survivors. Despite these different aims in the films' work with memory and the major shifts in the use of animation technologies, a connection can be seen in the pervasive intermediality of the film form, continually searching and re-situating its place between the objective historical fact and an authentic subjective experience.
Jana Rogoff's research interests are Eastern European film, history of animation, and film sound theory. She received her PhD from the Slavic Department of the Humboldt University in Berlin. Her dissertation Audiovisual (A)synchrony in Early Soviet Sound Film is a media-historical study of the emergence of sound in Soviet cinematography, including animated film. She has taught seminars on Eastern European film at universities in the U.S., Germany and Czech Republic, and has been awarded multiple research fellowships e.g. from the Max Planck Institute for the History of Science, the DAAD and the DFG. She is currently working on her post-doctoral project Eastern European Animation Between Art and Politics, 1945-1990 at the Humboldt University in Berlin.

References
Adler, H.G. (2017). Theresienstadt, 1941-1945: The Face of a Coerced Community. New York: Cambridge University Press.
Honess Roe, A. (2013). Animated Documentary. New York: Pallgrave Macmillan.
Hošková-Weissová, H. (2012). Deník 1938-1945: příběh dívky, která přežila holocaust. Brno: Jota.
Hošková-Weissová, H. (2013). Helga's Diary: A Young Girl's Account of Life in a Concentration Camp. New York, London: W.W. Norton and Company.
Hříbková, H. (2012). 'Jiří Weil: a scientist and initiator of exhibitions of children's drawings from Terezín', in Holý, J. (ed.) The Representation of the Shoah in Literature, Theatre and Film in Central Europe. 1950s and 1960s/ Die Darstellung der Shoah in Literatur, Theater und Film in Mitteleuropa. Die fünfziger und sechziger Jahre. Praha: Akropolis, pp. 51-63.
Jablonská, V. (1979) 'Miro Bernat', Filmový přehled, 19-20, p.23.
Kuna, M. (2008). Dvakrát zrozený. Život a dílo Karla Reinera. Praha: H&H.
Makarova, E. (2012). 'Terezín Artist Erich Lichtblau-Leskly.' Elena Makarova Initiatives Group Production. Available at: http://makarovainit.com/leskly/pdf/LESKLY-Slovo%20Kuratora-FOR%20pdf-eng.pdf [Accessed 20 July 2019]
Pařík, A. (2009) 'Friedl Dicker-Brandeisová v Hronově', Roš Chodeš, 71, p.9.
Rogoff, J. (2019). 'Butterflies Do Not Live Here and On Shoes, Braid and Dummy: Production and Reception History of Two Czechoslovak Documentaries on the Holocaust', Apparatus. Film, Media and Digital Cultures in Central and Eastern Europe 9. DOI: http://dx.doi.org/10.17892/app.2019.0009.180
Rogoff, J. and Hošková-Weissová, H. (2019). Discussing Animated Films on Theresienstadt.
Ryška, P. (2018). Karikaturisti. Praha: Paseka.
Štoll, M. (ed.) (2009) Český film. Režiséři-dokumentaristé. Praha: Libri.
Walden, V. G. (2014). 'Animation: Textural Difference and the Materiality of Holocaust Memory', Animation Studies 9. Available at: https://journal.animationstudies.org/victoria-grace-walden-animation-textural-difference-and-the-materiality-of-holocaust-memory/ [Accessed 10 Apr. 2019].
Wells, P. (1998). Understanding Animation. London and New York: Routledge.
Notes
[1] Incarcerated Dreams (1992), Helga L-520 (2011) and Transport R (2015). [films] Prague: Miloš Zvěřina.
[2] Theresienstadt is sometimes referred to as a ghetto, as it was located in an 18th century fortress and the adjacent town, but in reality it functioned as a concentration camp for Jews from the Protectorate of Bohemia and Moravia, and later also from Germany, Austria, the Netherlands, Danmark and Slovakia. Forced labor started at the age of 14. For a detailed account of the camp's functioning see the seminal work of Hans Günther Adler (2017, originally published in German in 1955).
[3] Helga's Diary: A Young Girl's Account of Life in a Concentration Camp. The book was first published in Czech under the title Deník 1938-1945: příběh dívky, která přežila holocaust in 2012; English, German, French, Portuguese, Polish and Hungarian translation followed in 2013, Italian and Serbian in 2014, Chinese in 2015, Turkish 2017.
[4] The film is dedicated to Theresienstadt prisoners who produced shadow puppet theatre in the ghetto: Fredy Hirsch, Irma Lauscherová, Jiří Lauscher and others, and was prepared for release on the occasion of Hošková-Weissová's 90th birthday.
[5] Rogoff, J. and Hošková-Weissová, H. (2019). Discussing Animated Films on Theresienstadt.
[6] This incident became known as "The Painter's Affair" (Makarova 2012, pp. 42-43).
[7] Pavel Hrdlička (1911-1994) began to work as a camera operator at the Baťa film studios founded in mid 1930s to produce mostly commercial, documentary and instructional film, later adding also animated and live action film. Hrdlička collaborated e.g. with Hermína Týrlová on one of the first Czechoslovak animated films Ferdinand the Ant (1943) and with Karel and Bořivoj Zeman on The Christmas Dream (1944). Since 1946, he worked at the Krátký film shooting mostly documentary films.
[8] Coincidentally, around the same time, a similar technique is used also in other Czechoslovak animated films. Jan Brychta, Stanislav Látal and Miloš Macourek experiment with minimal animation, a series of still drawings animated by means of editing and camera, voiceover and music in their very successful film Otylie and 1580 Inkspots (1965), Přemysl Prokop applies the same approach e.g. in Flying to the Stars (1962), cf. Ryška 2018, p. 85.
© Jana Rogoff
Edited by Amy Ratelle